Who doesn't love cycling? Most of us loves riding a bicycle. Cycling is healthy, fun, and a low-impact form of exercise for all ages. Not only in the morning, but cycling easily fits into your daily routine by riding to the shops, parks, school, or work. But, sometimes due to extreme weather conditions, especially summer and hot days, we all have to limit our love for cycling. Riding a bicycle in the sun can lead to dehydration, sunburns, and other health complications. So, what the solution?
Bicycle Sunshade Canopy is a solution that can help protect a rider from the sun and its harmful radiations. This uniquely designed all-weather bicycle accessory is purposely designed to protect a rider from the sun. Now, whether you are riding a bicycle in the morning, noon, or the evening, you don't have to worry about the sun and its harmful radiations. You can freely enjoy cycling without worrying about sunburn, dehydration, or any other health problems that can be caused due to sun exposure. Bicycle Canopy Shade not only protects your head from the direct sun, but it also protects the entire upper part of the body. Thus, you stay cool even while riding a bicycle in the sun. to buy bicycle sunshade canopy, please call us at +1-623-518-5535 or visit us at https://bicyclesunshade.com. Please click here, to watch our YouTube Video on Bicycle Sunshade Canopy.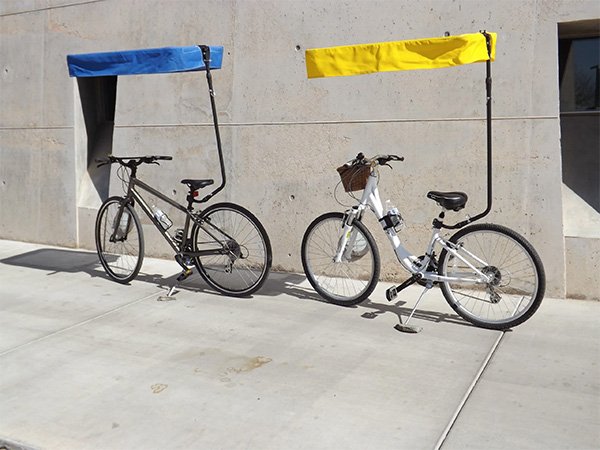 Features of Bicycle Sunshade Canopy
A perfect UV protected bicycle sunshade
Helps protect bicyclist from exposure to the sun
Universal, adjustable and telescopic canopy-style sunshade
Lightweight, portable and foldable
Easy to attach and detach
Does not off-balance rider or obstruct your view
How to use bicycle canopy shade?
Bicycle canopy shade (Bicycle Umbrella) is a lightweight, portable, and easy to use bicycle accessory. It can be easily attached and detached from the bicycle as and when required. I can be easily attached to the rod beneath the seat to keep yourself protected from the sun while riding. Bicycle sunshade is a bicycle canopy shade that is easy to attach and detach, and does not off-balance your ride. To learn more about the use of bicycle sunshade and how to install it, please have a look at the video.
Buy Bicycle Sunshade Canopy Today!
If you are interested or want to buy a bicycle canopy shade for yourself and your family members, then please click here https://bicyclesunshade.com/product/bicycle-sunshade/. Bicycle Sunshade canopy is available in attractive colors, to find the color of your choice, please visit https://bicyclesunshade.com/contact/.