a cool ride ™
A cool bicycle accessory that protects bicyclers and beachgoers from the sun
helps protect your head from the sun
Virtually designed to fend off the sun damage without weighing down your ride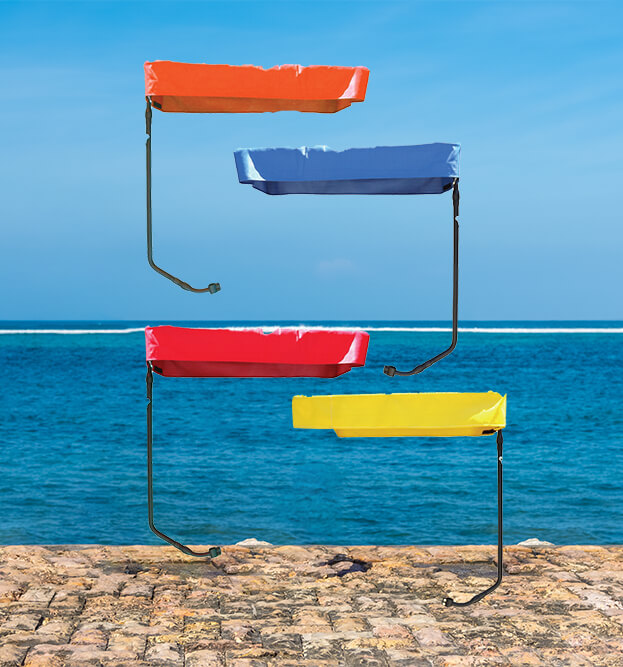 FOR USE ON PAVED SURFACES ONLY
Bicycle Canopy

Holiday Special Sale
$65.00 + Shipping
OUR HIGH VISIBILITY COLORS HELP DRIVERS SEE YOU.
SHIPPING IN THE CONTINENTAL US ONLY
For shipping calculations outside the Continental US, email info@bicyclesunshade.com
Our sunshade is a creative new idea for bicycle riders and a true friend of beach and adventure cyclists who don't want to compromise with their fun in the sun. The Bicycle Sunshade being made of 80% UV rated mesh material and is suitable for different types of bicycles. Moreover, it's height can be adjusted according to the size of most riders. With the help of this portable bicycle canopy, the cyclists can help protect themselves against the sun.This product can be used on regular bicycles, most e-bikes, and most trikes. Max speed 20 MPH. Size: 39″ x 24″

Click for Description
Bicycle Sunshade is a unique bicycle accessory for everyone who doesn't want to give up their love for bicycling even during the hot summer days. This Bicycle Sunshade Canopy is thoughtfully designed with a mesh material canopy to help protect the rider from the sun and it's harmful UV radiations so that they don't get drained in a short ride. Bicycle Sunshade Canopy is universally designed to fit any bicycle; thus, making it a cool bicycle accessory for everyone in the family. To buy Bicycle Sunshade and to give your ride a cool summer look, please give us a call at +1-623-518-5535 .
Bicycle Sunshade Canopy is an exclusive bicycle accessory that is purposely designed to help protect the riders head and upper body from the sun. It is made out of a mesh material; hence, Bicycle Sunshade Canopy also protects a bicyclist from the harmful ultraviolet radiation emitted by the sun. It is lightweight and portable; hence, you can easily carry it with you to the beach or park or bike path. Moreover, the height of the Bicycle Sunshade Canopy can be easily adjusted as per the requirements of the rider; therefore, the cyclists of any height can stay protected for the entire day. We are accepting the orders for the Bicycle Sunshade Canopy; thus, to buy a canopy made of mesh material for your bicycle, please contact us. However, if you have questions then you can give us a call or visit our Bicycle Sunshade Canopy FAQ page.
Features of Bicycle Sunshade Canopy
Planning to buy a Bicycle Sunshade, but want to know more about the product? Here are some important features of Bicycle Sunshade that makes it one of the perfect summer bicycle accessories for beachgoers and adventure bicyclists, and they are:
Universal, adjustable, telescopic and foldable canopy-style sunshade.
A perfect UV protected bicycle sunshade.
Lightweight and Portable.
Does not off-balance rider or obstruct your view.
Easy to attach and detach.
Helps to protect bicyclist from exposure to the sun.
The Bicycle Sunshade Canopy being made of mesh material does not act as a sail.
Warnings
Watch for low hanging objects.
Remember a helmet is always recommended.
Meant to be use on paved surfaces.
Do not use if windy or gusty.
Not to be used for mountain climbing or stunt riding.
Avoid injuring self or others.
Not responsible for any added accessories.
I always wanted to buy a bicycle sunshade that was lightweight and easy to carry, and thanks to Bicycle Sunshade for this marvelous product. This bicycle canopy shade is exactly what I was looking for. Thank you very much for this awesome bicycle sunshade canopy.
– Jazz Baldiniya
Thank you very such for such a practical product, Bicycle Sunshade, that allows me to ride without worrying about the sun and its radiations. Now, I freely go out for cycling whenever I want to. A perfect bicycle accessory.
– Chris Lee
I am a beachgoer and love cycling on the beach. But, the sun used to force me to cut down by cycling routine. By installing Bicycle Sunshade, I don't have to worry about the sun. Thanks a lot for this creative product.
– Evan Mckenna
Hello again!
Little breezy….no issues at all!!!
Your product is cool!!!
John in Tennessee
Will it help protect me from UV radiation?
Yes, Bicycle Sunshade is made of mesh material that is known for reflecting the UV rays; thereby, helping to protect bicyclists from harmful radiation.
Can I carry bicycle canopy sunshade to the beach?
Yes, being lightweight and portable, you can easily carry bicycle canopy sunshade with you wherever you go, and enjoy the ride.
Is this suitable for different types of bicycles?
Yes, it is suitable for most bicycles with a round seat post. You can easily attach and detach it.
Will it obstruct my ride or off-balance me?
No, Bicycle sunshade is engineered in such a way that it won't obstruct your view nor will it off-balance you.
Is it available in different colors?
Yes, we have blue, yellow, orange, and red at this time.