Bicycle Sunshade Canopy – A Sun Protective Bicycle Accessory for All
Do you love riding a bicycle? Do you have to stop frequently under the shade due to the Sun? Do you get drained due to the sun in a short ride? Are you in search of a perfect summer bicycle accessory that can protect you from Sun and UV radiation? If so, then here's a perfect summer bicycle accessory that will allow you to enjoy riding even in the sun without draining yourself. Bicycle sunshade is a modern solution for bicyclists who don't want to give up their love for cycling even when it is hot outside. To learn more about bicycle sunshade canopy or to pre-order one for yourself, please visit our website at www.bicyclesunshade.com.
During the hot sunny days, our utmost priority is to protect our head and upper body parts so that we don't get tired and drained. Bicycle Sunshade is one of the most exclusive bicycle accessories that is derived out of the philosophy to keep the head of a rider protected from the sun and UV radiation so that they can keep cycling even when it's hot and sunny. It is not just an ordinary summer bicycle accessory,  it is 80% UV protective, but it works indeed. Our bicycle sunshade canopy is made of special mesh material that is sun and UV protective and at the same time extremely lightweight. Creatively and scientifically designed, our bicycle canopy sunshade protects your head while riding, and does not act as a sail.
Exclusive features of Bicycle Sunshade
No matter how hot it is, with bicycle sunshade canopy, you can enjoy riding without worrying about getting drained in a short ride. This bicycle sunshade canopy helps keep your head cool and protected and does not drain your energy. Some out of the box characteristics of bicycle canopy sunshade, and they are: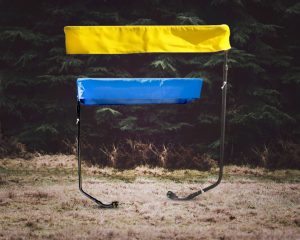 A perfect bicycle sunshade(canopy cover)
Protects bicyclist from extreme exposure to the sun
Universal, adjustable and telescopic canopy-style sunshade
Extremely Lightweight, portable and foldable
UV protective, and dust resistant
Easy to attach and detach
Does not off-balance or obstruct your ride
Bicycle Sunshade is an ingenious bicycle sunshade canopy and a true buddy of beach and adventure cyclists who don't want to compromise with their fun even during the hot summer days. This bicycle canopy (Bicycle Sunshade) is suitable for different types of bicycles. Moreover, its height can be adjusted according to the size of the cyclist. With the help of this portable bicycle canopy, the brave cyclists can protect themselves against the sun. Moreover, this bicycle accessory is extremely easy to attach and detach; hence, you don't have to spend a lot of time fitting the accessory to your bicycle. To learn more about how this bicycle sunshade canopy works, you can watch our video on YouTube.
If you have any other questions related to bicycle sunshadestm, then feel free to give us a call at +1-623-518-5535. If you want to pre-order this exclusive summer bicycle accessory, then you can visit our website at the "Pre-order page". We are accepting pre-orders.